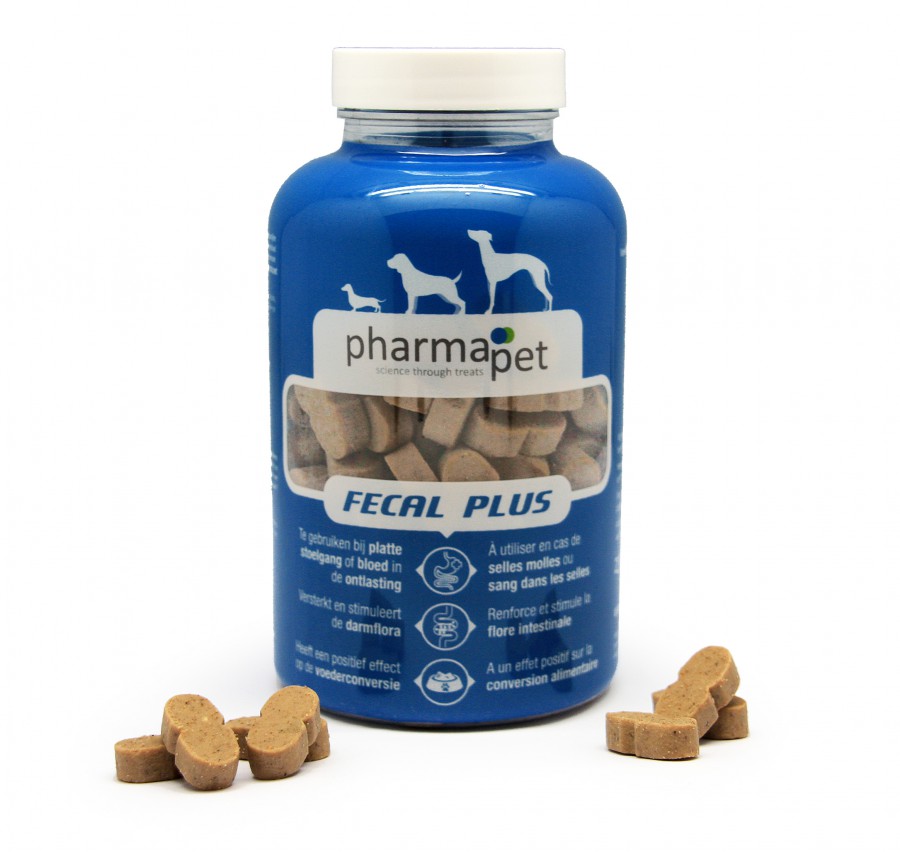 Fecal plus
Dietary supplement enriched with concentrate from natural raw materials such as thyme and walnut, which support a healthy intestinal system.
To be used with flat stools or blood in the stool
Strengthens and stimulates the intestinal flora
Has a positive effect on feed conversion
Available at the pharmacy via CNK code 4128-294 (only in Belgium)

€ 7,5 shipping cost in Europe
Free shipping from € 30



Price per bottle (235gr) Ca. 150 stuks/flacon
= € 28,50
quantity:
The Juglans plant is better known to us as the walnut tree, whose leaves are an excellent means against digestive disorders and even persistent single cells or parasites in the intestines. Walnuts are a healthy form of power feed: they contain not only a lot of vitamins and minerals, but also a large portion of iron. Moreover, they are a fantastic source of antioxidants and omega-3 fatty acids. Researchers at the University of Scranton in Pennsylvania discovered that walnuts contain almost twice as many antioxidants as other nuts, so their reputation as healthiest nut was quickly set. Did you know that the nut tree was often planted at farms because their aromatic leaves kept mosquitoes and flies out of the cow's barn? Thanks to their high content of vegetable fats, omega 3 & 6 and alpha-linolenic acids, extracts of walnuts were already used in folk medicine to treat gastrointestinal inflammation.
The nut is known for helping to restore intestinal flora. Perhaps the main effect of walnuts takes place at intestinal microbiome level. This is a dynamic ecosystem of trillions of micro-organisms that help to convert undigested food into energy or other useful compounds. About 20% of walnuts' nutrients are found at the intestinal microbiome. These undigested walnut components have a positive effect on the metabolism, but also the resistance system and even the mood. The quality and quantity of beneficial bacteria in the intestinal microbiome are influenced by walnuts, and in turn affect general health. Some studies with rodents suggest that walnuts are a kind of prebiotics, which selectively promote the numbers and activity of beneficial bacteria.
The cinchona or red kina tree contains substances that repel cramps and are stomach strengthening. This plant originally belonged to the Andes, and until 1930 the quinine extracted from the bark was the only means against malaria. Now you often find it back as an ingredient in tonic and other aperitifs, for the bitter touch that awakens appetite. But the action of quinine goes much further: it kills parasites that have nestled in the body and stimulates the digestive system. Furthermore, it also helps very well with soft stool.
Did you know that thyme does not only work well as a kitchen herb to give your dishes more taste, but by its regulating effect on digestion, it also makes food more digestible? It also works antibacterial and uncramping. Thyme works in support of various gastrointestinal disorders, flatulence and diarrhoea. The herb is also worm repellent.
If your dog suffers from a soft bowel or blood in the stool, this cure can certainly be an added value. This is often a signal of a deranged bowel system or unwanted guests in the intestines. Preventively, this is also a fine way to support a healthy intestinal system and normalise the intestinal flora.The aromatic plant extracts used contain substances that support a better immunological resistance. They ensure that the digestion improves and the nutrients from the daily diet are better utilised. Nothing but advantages!
Complementary pet food for dogs.
Composition:
Cereals, vegetable by-products, meat and animal by-products, oils and fats
Analytical components:
| | |
| --- | --- |
| crude protein | 12.8% |
| crude fat | 7.2% |
| crude ash | 2.2% |
| crude fibre | 0.6% |
| moisture | 22.5% |
Additives:
flavourings
preservatives
colourants and antioxidants
The product is ready to be served.
Provide enough fresh drinking water.
Keep cool and dry.
3-15 kg

2 in the morning
2 in the evening

15-25 kg

3 in the morning
3 in the evening

25-60 kg

4 in the morning
4 in the evening
The product is ready to be served.
Provide enough fresh drinking water.
Keep cool and dry.